Compliance, in general, means in compliance to a rule, such as a specification, policy, standard or law. Risk management is the identification, assessment, prioritization and mitigation of the effect that can be placed upon an organization. Risk management can imply both negative risks as well as positive risks. The term "risk management" is mostly used by different groups of specialists to define rather diverse, yet associated, functions. Risk management can be classified in three types: operational risk management, financial risk management, and enterprise risk management.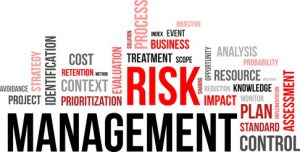 Without a doubt, compliance and risk management are closely aligned:
Compliance with established rules and regulations helps protect organizations from a variety of unique risks, while risk management helps protect organizations from risks that could lead to non-compliance—a risk, itself. However, they have differences.
Since non-compliance can prompt expensive fines and penalties, not to forget reputation damage, it should not be underestimated. Risk management, on the other hand, should rest more heavily on analysis in order to avoid risks or govern risks worth taking.
Prescribed vs. Predictive
With compliance, organizations must follow rules and regulations already there. Risk management, nonetheless, should be less responsive. It should be able to predict the impact risks will have on the organization—encouraging new and inventive procedures (as opposed to contributing to established rules) that lessen risks or take benefit of their pluses.
Conforming with governance rules and regulations hardly interprets into value-generating business propositions. Compliance usually stops with proof that a rule has been followed to evade risks. The best risk management, though, can convert the necessary evils associated with compliance into a boon.
Siloed vs. Integrated
Most of the time compliance is driven by a siloed compliance department or siloed initiatives in various departments. Although compliance practices certainly benefit from broad transparency, still they can survive without it. On the other hand, the most impact risk management programs cannot accomplish in silos. Integrating departments, technology systems and processes is essential to control the predominant risks within an organization and how they should be controlled—whether it's to circumvent their insinuations or drive value.
Managing Compliance Risk
A workable plan, procedures and technology is needed to manage compliance risk. Little to no compliance risk management: A compliance team has to be formed to identify compliance needs and requirements, evaluate the existing compliance program, form a phased budget for objectives, and allocate resources to touch the objectives.
Aging compliance process and technology: Evaluate compliance and objectives, and invest in new technology.
Compliance and risk management are not the same. And organizations need to be wary to not lump the two together as one initiative, with one attitude. Nevertheless, understanding their resemblances and how to support the two is equally significant—allowing one to gain the assistance from compliance and risk management being in sync.